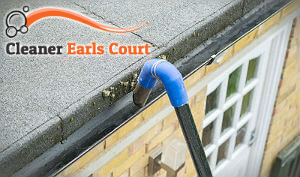 Having troubles with your gutters lately? They are overgrown, leaking or clogged, which prevents them from carrying off rainwater away from your walls and property's foundations?
It seems like it's about time you call our company as we are the first-choice gutter cleaning provider for hundreds of customers in Earls Court and the boroughs around. People opt for using our services because they are easy on the budget, flexible in terms of scheduling, and carried out in accordance with the established standards of this trade.
We have invested in professional gutter cleaning equipment which enables us to clean customers' gutters and downpipes promptly and efficiently.
Quality Gutter Cleaning for Commercial and Residential Properties SW5
Customers in and around SW5 decide in favour of using our gutter cleaning services because we never fail to deliver superb results. Some of the biggest benefits of booking us include:
Affordable and fair pricing
Flexible working hours seven days a week
Free quotes on site to evaluate gutters' condition
Reporting damages and issues with customers' guttering systems
Friendly customer service and call centre for inquiries and tips on gutter maintenance
A month guarantee for all gutter cleaning work we undertake
Don't put off cleaning your gutters and downpipes any longer! Such negligence will end up costing you a small fortune as it may lead to severe water damages to your property.
"This company's gutter cleaning service is the best I have ever used. They unclogged two very blocked downpipes, which hadn't been cleaned for I don't know how many years. They were prompt, professional and didn't charge extra for working on a Sunday. Would use them again any day. Excellent service, indeed! – Timothy"
Affordable Gutter Cleaners in Earls Court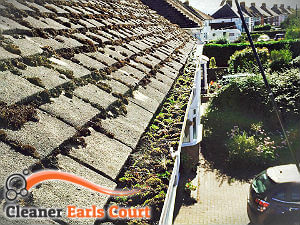 The gutter cleaning service we provide across Earls Court, SW5 is so competitively priced, anyone can afford to use it. More importantly, we can dispatch a team of experts at a convenient time to estimate your gutters free of charge and give you an accurate and fair quote.
If you agree with the pricing we have set, we will proceed with the cleaning itself. Provided that our operatives have encountered any blockages during the inspection, they will clear them out with a powerful wet/dry vacuuming system. The team also implements extendible carbon-fibre poles to see inside the downpipes.
We can even provide pictures of the final results as we have a camera attached to the poles. This way, you can be safe in the knowledge your gutters are properly cleaned and will serve their purpose.
Booking us for regular gutter maintenance is a good idea, first of all, because we offer special discounts for our maintenance packages. Then again, your gutters will be in top shape year-round. Become one of the many happy customers who have benefited from our specialist gutter cleaning service!